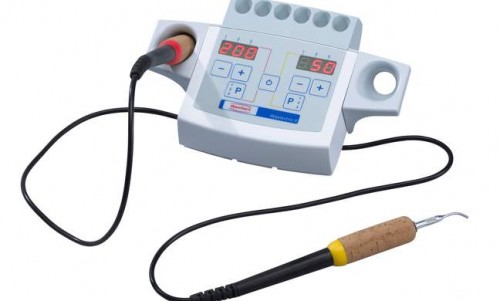 Waxlectric I + II – Waxing up – precisely and quickly
Function & Performance
Waxlectric I + II are the professional instruments in the electric wax knife sector. The application concept concentrates on safety, precision and user-friendliness.
Advantages
Temperature setting to a precise degree ensures controlled working processes.
Direct access of preferred working temperatures using programming function.
Hermetically sealed membrane keyboard.
Features
Unlike the Waxlectric I, the Waxlectric II can be operated with two handpieces simultaneously.
Details
Integrated holders provide ergonomic access to the handpieces and exchange tips.
Direct setting of the maximum or minimum temperature.
Daylight operable 3-figure LED display.
Both channels can be set separately with the Waxlectric II.
Color-coded for controlled management of the handpieces.

Renfert Waxlectric
Waxlectric. Waxing up in best time.
Renfert has all the answers if you want to sculpt wax stress-free and conveniently. The Renfert heat conductivity concept concentrates the temperature exactly where it is required. The sculpting tip forms the required heat center.
Temperature setting:
Individual matching to any of your waxes thanks to a temperature setting of 50–200°C (122–392°F).
Sculpting tips:
Internal heating of the sculpting tip ensures direct transfer of heat to your wax.
Special alloy tips with optimum heat conductivity.
Handpiece:
Maximum working comfort provided by heat-insulated, natural cork handle.
Heat-resistant cable protected against twisting.
Housing:
20° inclination allows view of the unit and optimum operation.
Hermetically sealed, easy to clean membrane board.
Increased work safety due to low-voltage technology. Power adaptor is outside the workstation.