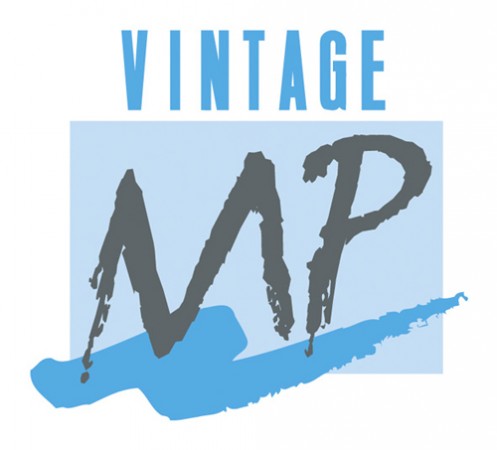 Overview
A new generation of metal-bonded porcelain developed to reproduce natural life-like aesthetics with a simple two layered build-up technique. The ultra-fine microparticle structure of Vintage MP exhibits diffused reflection of light as observed in natural teeth and thus is able to simulate natural light transmission usually achieved only with all-ceramic restorations.
Features
Packaging
Brochure
Developed to be compatible with all conventional high fusing PFM alloys with CTE ranging from 13.6 to 15.2 x 10-6 K-1 (25 ~ 500 °C)
Enhanced bond strength to alloy is achieved with the application of the Base Opaque while the unique Paste Opaque assures outstanding masking properties even with a thin layer of application.
Features a unique leucite reinforced crystalline structure with colour pigments that have a protective 'glass coating' that assures the colour brilliance and depth of light penetration even after multiple firings.
Ultra fine particle structure imparts superior handling characteristics, exceptional stability and a dense, homogeneous surface to the final restoration with a low firing shrinkage.
Unlike traditional high fusing porcelain, Vintage MP is kinder to the opposing natural teeth and offers true opalescence, natural fluorescence with excellent biocompatibility.
Highly aesthetic and biocompatible marginal areas are achieved with special cervical translucent compounds.
Available in: Sets and refills of Powder 15 gm / 50 gm / 200 gm; Paste Opaque 5gm; Liquid 50 ml / 500 ml
Vintage MP Uni-layer porcelain presents an efficient system that simplifies ceramic build-up with just one simple build up process.
Dramatically enhances productivity and profitability of the laboratory as valuable time is saved by avoiding tedious multi-layered build up that often prolongs the learning curve for new technicians.
An economical system that minimizes inventory and wastage by eliminating the need for an extensive inventory of dentin and enamel powders.
Just one firing cycle is all it takes to match Vita shade, where the base hue is obtained from the opaque layer while the desired translucency and opalescence is reflected through the build-up of either the HT (high translucency) or LT (low translucency) Uni-layer porcelain.
Individual characteristics or colour adjustments can be easily made with Vintage Art stains.
VINTAGE MP STANDARD SET- HC (PN 9257)
Vintage MP Starter Set- HC consists of 9 bottles in either A2 or A3 shades:
Base Opaque 5gm x 1, Paste Opaque 5gm x 1,
Body 15gm x 1, Cervical 15gm x 1,
Opaque Dentin 15gm x 1, Opal Incisal 15gm x 1,
Opal Effect 15gm x 1, Vintage MP Opaque liquid 3ml x 1, Vintage Mixing Liquid HC 20ml x 1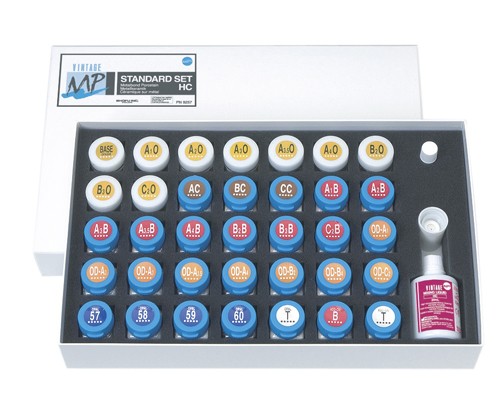 VINTAGE MP STARTER SET- HC
Vintage MP Standard Set-HC consists of 35 bottles in A1- A4, B2, B3 and C2 shades:
Base Opaque 5gm x 1, Paste Opaque 5gm x 8, Body 15gm x 8, Cervical 15gm x 3, Opaque Dentin
15gm x 8, Opal Incisal 15gm x 4, Opal Effect 15gm x 1, Correction / Add-on Powders 15gm x 2,
Vintage MP Opaque Liquid 3ml x 1, Vintage Mixing Liquid HC 50ml x 1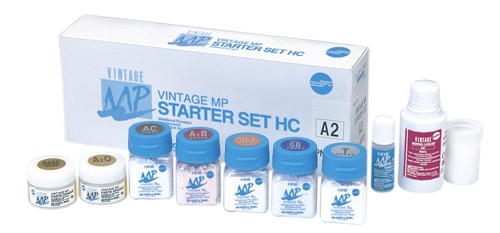 VINTAGE MP ENAMEL EFFECT SET (PN 9252)
Vintage MP Enamel Effect Set consists of 19 bottles of opalescent effect, enamel effect and cervical translucent powders for individualized optical effect shades:
Opal Effect 15gm x 9, Enamel Effect 15gm x 5, Cervical Trans 15gm x 5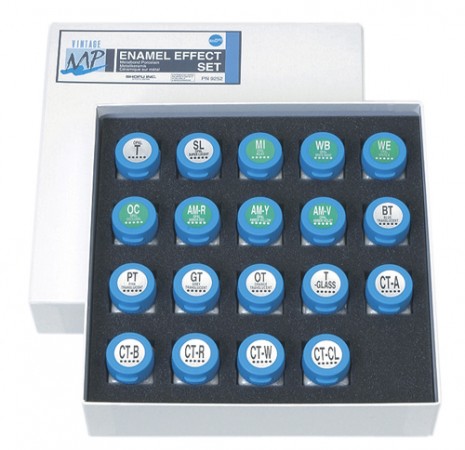 VINTAGE MP COLOR EFFECT SET (PN 9256)
Vintage MP Color Effect Set consists of 14 bottles of Color Effect powders, designed to individualize dentin and cervical powders while the supplementary gum colours help to simulate natural gingiva:
Color Effect 15gm x 10, Gum Color 15gm x 4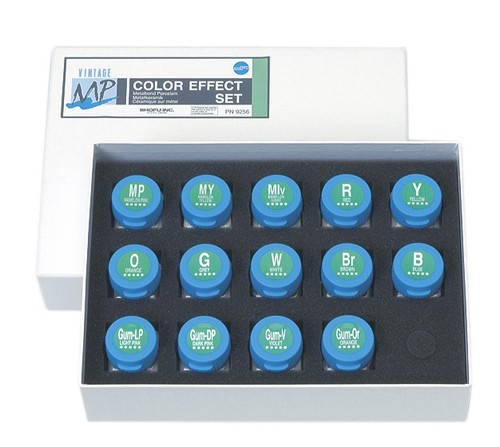 VINTAGE MP MARGIN PORCELAIN SET (PN 9253)
Vintage MP Margin Porcelain Set consists of 22 bottles for the reproduction of aesthetic margins. Margin effect powders enable the adaptation of the varied cervical shades of natural tooth. The set comprises of shades ranging from W0 to D4:
Margin Shades 15gm x 13, Margin Effect Shades 15gm x 7, Correction / Add-On Powders 15gm x 2,
Vintage CPM Modelling Liquid 3ml x 1, Vintage Margin Hardening Liquid 50ml x 1, Vintage Margin Isolation Liquid 7ml x 1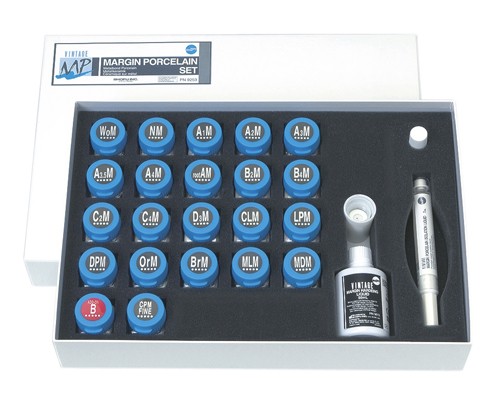 VINTAGE MP WHITENING SET (PN 9251)
Vintage MP Whitening Set consists of 15 bottles designed to reproduce shades of bleached teeth in W0, W1, W2 and W3 shades: Base Opaque 5gm x1, Paste Opaque 5gm x 4, Body 15g x 4, Opaque Dentin 15gm x 2, Opal Incisal 15gm x 3, Opal Effect 15gm x 1, Vintage MP Opaque Liquid 3ml x 1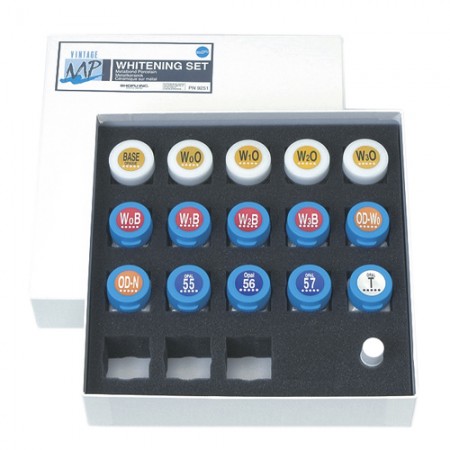 VINTAGE MP UNI-LAYER SET (PN 9633)
Vintage MP Uni-layer porcelain is a revolutionary solution to metal-ceramics that provides predictable aesthetics and the desired shade with just a single layer build-up. This novel leucite reinforced   feldspathic porcelain assures simplicity of application, reliable aesthetic and functional results while dramatically improving productivity and profitability.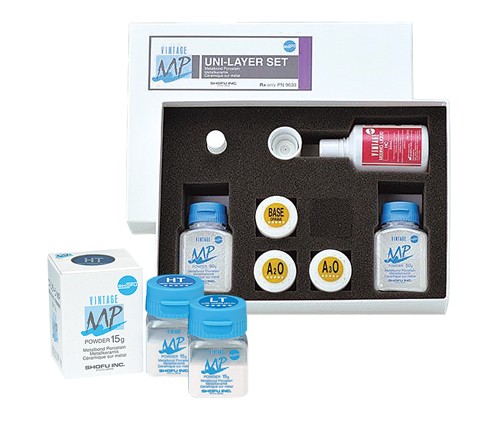 VINTAGE MP Uni-Layer Set (PN 9633) Contains:
Base Opaque 5gm x 1
Vintage MP Paste Opaque 5 gm, A2O x 1
Vintage MP Paste Opaque 5gm, A3O x 1
Vintage MP Uni-Layer Low Translucent (LT) 50 gm x 1
Vintage MP Uni-Layer High Translucent (HT) 50 gm x 1
Vintage Mixing Liquid HC 50 ml x 1
Opaque Liner Liquid 3ml x 1LT and HT also available as refills of 50 gm each Vintage MP Unilayer HT (PN 9627)