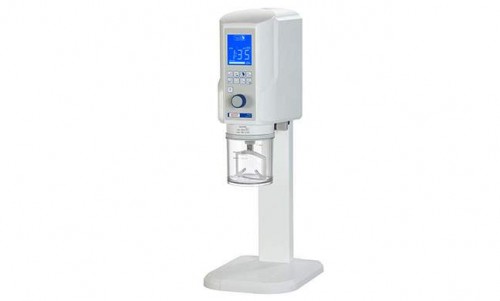 Twister evolution – Reproducibility at the press of a button
Function & Performance
Twister evolution und Twister evolution venturi embody mixing technology without compromises. Operation is intuitive and the reproducibility at the press of a button meets every requirement.
Advantages
The high torque of the mixing motor ensures reliable processing of large amounts of mixing material.
Intuitive programming and operation using a large, highly luminous display.
The vacuum, which can be regulated from 70% to 100%, prevents boiling bubbles with certain plasters and duplicating silicones.
Features
The units have the same functions. The only difference is in the vacuum generating technology. While the Twister evolution operates using a motor pump, the Twister evolution venturi produces the vacuum with the aid of compressed air.
Programmable
Units with the name »evolution« have over 100 custom programmable mixing programs.
Quick processes
Standardized production process
User-friendly operation
Prespatulation
The two prespatulation functions handle plaster and investment individually and prevent powder being thrown out of the mixing bowl. At the same time the mixing paddle "collects" powder from the top edges.
Prevacuum
Undesired reaction gases from investments are extracted by the prevacuum function before the main mixing time.
Main mixing cycle
The powerful motors of the Twister evolution effortlessly maintain the set mixing speed with any material, filling level and bowl size.
Reverse rotation
Dry agglomerates are broken up by the change of the paddle direction to ensure better wetting of the powder.
Post vacuum
The post vacuum of the Twister evolution reduces gas inclusions, which form later on the surface of the mixture.
Renfert Twister
Vacuum mixing technology, powerful and reliable
Made in Germany and designed by Renfert: The German development expertise and our fully developed quality management give the Twister range its internationally unbeatable price-performance ratio.
The high torque also mixes large amounts reliably and reproducibly.
The adjustable vacuum prevents bubbles.
Flexibility: Can be used as a wall or bench unit.
Whether vacuum build-up via a membrane pump or compressed air: Both versions build up the required vacuum with impressive speed. Setting up of the unit in the laboratory with the efficient membrane pump is particularly flexible, as only a power connection is required. The Venturi models even operate without a motor pump, but require an additional compressed air connection.
Constantly reliable, individually programmable:
A feature of all Twister units is the reproducibility of the results, in particular the evolution models. The individual, optimum mixing parameters for different materials and different employees on over 100 programs can be called up again and again with a simple press of a button.