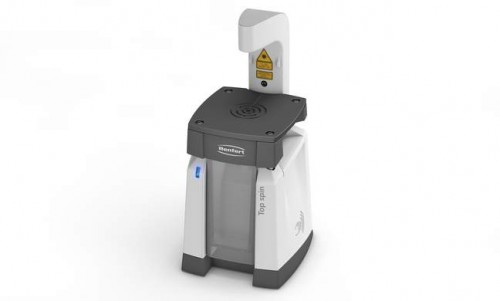 Top spin – Experience precision
Function & Performance
The Top spin provides the advantages of precision, reliability and durability. We have been successful in greatly increasing the previous level of quality. You will be fascinated by the unique concentricity, special drill technology and unparalleled dust protection.
Advantages
Unique shaft bearing technology ensures a drilling accuracy of ≤ 0.01mm.
Powerful motor without losing performance during drilling 8,000 rpm.
Unique drill technology enables extremely easy drilling without resistance.
Precision
A unique shaft bearing eliminates even the smallest vibrations. A new dimension in drilling accuracy.
Drills are each available in 3 versions for the individual sense of precision: "small/medium/large".
The dual telescope table guidance ensures precision drilling over the entire movement of the drill.
The laser point is aligned exactly to the tip of the drill.
Markings on the surface of the table enable accurate planning of the drill hole position, even with narrow dental arches.
Safe, simple operation
The new drill geometry reduces the force during drilling by up to 50%. This means safety, even with dental arches that are at risk of fracture.
A quick-release mechanism enables easy, tool-free drill change.
The unique dust control and easily removable dust drawer with a filling level overview ensures a clean, comfortable workstation.
Further details
Two unit positions and different gripping options for fixing the dental arch in position enable an individual, ergonomic working posture.
The individual, infinitely variable drill-depth setting of 0-20 mm (0-0.79 inch) also allows drilling for pin systems with resin plates.
With adjustment it is also possible to use drills with a longer shank.
Compact design with a high degree of stability.