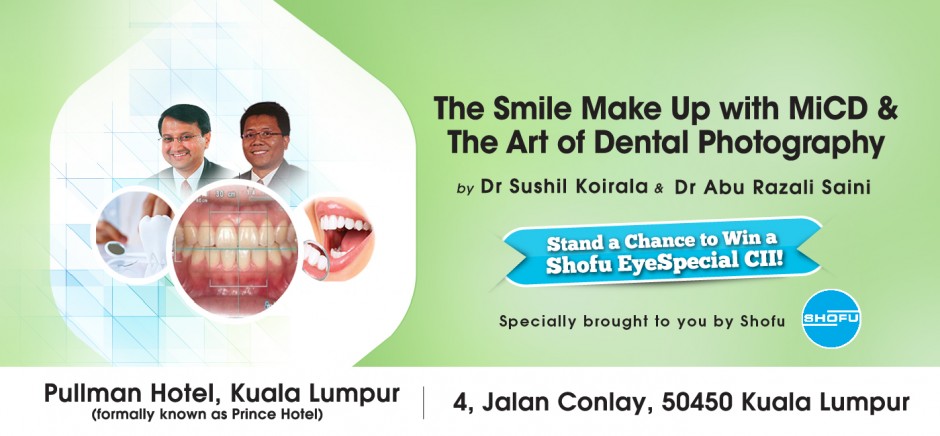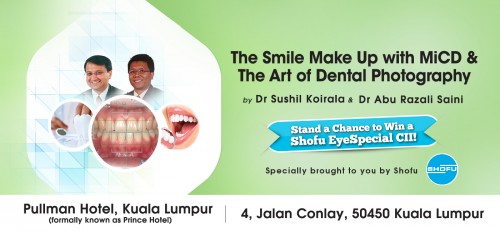 Exclusively brought to you by Shofu, coming all the way from Nepal, Dr. Sushil Koirala is going to give a seminar and live demo on Aesthetic dentistry while we also honoured to invite Dr. Abu Razali Saini to give his personal tips and tricks on dental photography.
Date: 10 October 2015 (Saturday)
Time: 2pm-6pm
Venue: Pullman Hotel (previously known as Prince Hotel)
Registration fees: RM200.
50% of the fees will be donated to Nepal Earthquake Disaster Relief.
Register now to stand a chance to win a Shofu EyeSpecial CII Camera with a complimentary RM100 voucher for onsite redemption on any Shofu products. What are you waiting for?
Register Now!
Find out about our course layout and speakers' profile. You will be amazed!
The Smile Make Up with MiCD


Course Introduction
MICD concept and protocol has received an overwhelming acceptance in dental practice. This in turn has led to the introduction of the Smile Makeup program that aims to help dental practitioners enhance their professional reputation and successfully market their practice for cosmetic dentistry by tapping into the growing beauty and glamour market, while keeping true to the principles of Minimally invasive cosmetic dentistry (MiCD).
Smile Makeup is based on do no harm dentistry practice philosophy and uses the Smile Design Matrix to visualize treatment planning and complete it with a simple, safe and predictable approach. Smile Makeup clinical protocol focuses on the Alignment, Brightness and Contour (ABC) of the smile and lays high priority on the patient's individual style of smile and smile hygiene. The clinical techniques used in Smile Makeup are very simple, predictable and safe, enabling you to seamlessly incorporate this aesthetic protocol in your clinical practice.
The presenter will demonstrate various simple to complex cases of Smile Makeup that are completed using the Smile Design Matrix.
Speaker's Profile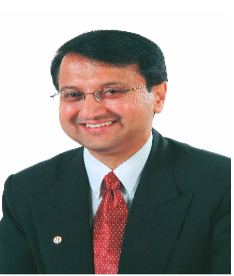 Dr. Sushil Koirala, the founding president of the Vedic Institute of Smile Aesthetics (VISA), is a well known speaker and instructor in the field of TMJA Harmony and Minimally Invasive Cosmetic Dentistry (MICD). He has extensively lectured and conducted hands on training programs around the world on Smile Aesthetics, Smile Makeup and clinical management of Occlusal Force Diseases (OFD) based on his Vedic Smile "Do No Harm Dentistry" philosophy.
Dr. Koirala is the visiting professor of Faculty of Dentistry, Thammasart University, Thailand and editor- in -chief of Cosmetic Dentistry Beauty & Science (DTI, Germany) magazine and MICD Clinical Journal.
Dr. Koirala has published numerous clinical articles and is involved in practice based research in the field of TMD, Force Finishing in oral Implantology and Orthodontics. Dr. Koirala has authored a comprehensive book on direct aesthetic dentistry "A Clinical Guide to Direct Cosmetic Restoration with Giomer" published by DTI Germany and a "Force Finishing in Dental Medicine: A simplified Approach to Occlusal Harmony" a book chapter in Computerized Occlusal Analysis in Dental Medicine" published by IGI Global , USA.
At present he is also serving as the President (2014-2016) of Asian Academy of Aesthetic Dentistry (AAAD). Dr. Koirala has founded the TMJA Harmony and MICD Global Academy; both are not- for -profit educational organizations established exclusively to share knowledge, skills and the practice philosophy of MICD & TMJA harmony dentistry with dental professionals and patients around the world.
The Art of Dental Photography


Course Introduction
Dental photography is considered to be a powerful tool for treatment planning in the modern dental practice. Many of the demonstrations promote DSLR cameras, which involve heavy investment, steep learning curve, tedious and time consuming.
This interactive demonstration will enable the participants to experience dental photography on a whole new level. Dr. Abu will outline the details of dental photography in general with the choices available, while highlighting the benefits of having specific dental modes, to capture intra-oral photos in true dental colour and intuitive onscreen guides that enable anyone in the dental team to take consistent dental photos everytime.
Speaker's Profile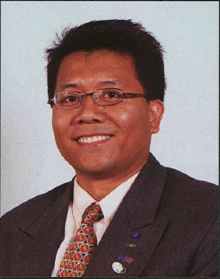 Dr. Abu Razali Saini is a general practitioner with a passion for aesthetic dentistry and dental photography. A much sort after dentist by local celebrities and artists for aesthetic dentistry. Dr. Abu also lends his experience in local movie productions whenever they require artistic & realistic dental prosthesis.
Dr. Abu has also conducted numerous lectures hands-on workshops locally & internationally. He currently lectures on various topics related to aesthetics dentistry and clinical photography, both topics that are close to his heart.
A graduate of the Faculty of Dentistry, University Malaya, Dr. Abu is now actively involved in contributing to dental education and holds many adjunct positions at various universties in Malaysia. He has designed, developed and conducted a Dental Photography course for Dclindent DX 6142 at the Faculty of Dentistry, UKM since 2009. Also he will be conducting a similar programme in Faculty of Dentistry, UiTM for Dclindent DMH902. He also conducts many express modules on Photography in Dentistry for Government Dental Specialist and dental auxilaries.
Online Registration