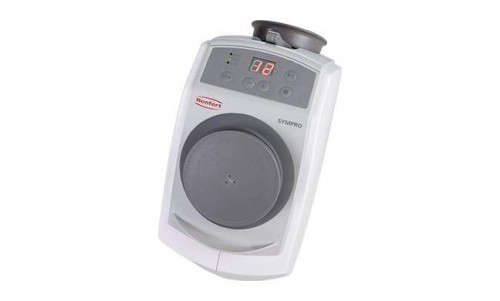 Sympro – Denture cleaning at the press of a button
Function & Performance
SYMPRO is a compact, high-performance cleaning unit for dentures, orthodontic appliances and splints.
Advantages
Maximum oral hygiene increases the well-being of the patient and promotes patient loyalty.
The fully automatic process involves virtually no labor costs.
Time-saving work preparation for repairs, extensions and relines.
Other advantages
Aids in the early detection of damage due to regular, prophylactic cleaning.
Functional reliability based on high-quality processing.
Easy, intuitive operation ensures process reliability
The needles are the key factor
A rotary magnetic field sets the needles in motion, which causes gentle, mechanical removal of the surface accretion.
The rotating needles heat up the cleaning solution to approx. 45°C (113°F), which accelerates the chemical reaction. The needles are made of an acid-resistant alloy. They are cut at precisely right angles and also designed for maximum efficiency and durability.
This has the effect of increasing efficiency while at the same time protecting the surface of the object.
We have the ideal chemistry!
Suitable cleaning fluids for this denture cleaning technology are:
SYMPROfluid Universal
Is used for cleaning in combination with the device. This fluid is used for removing "standard" accretion such as plaque, calculus, discoloration and adhesive denture creams.
SYMPROfluid Nicoclean
Also removes heavy nicotine stains from dentures. It is used in the form of follow-up treatment without the use of the device.