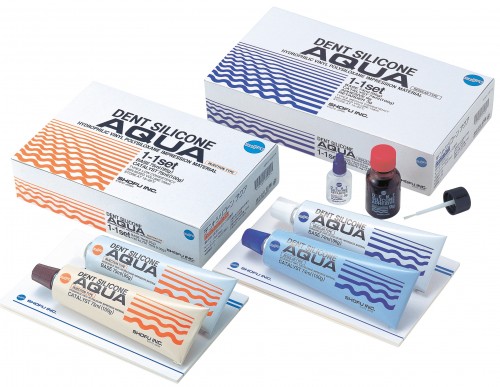 Overview
A vinyl polysiloxane impression material available in 3 consistencies for reliable and accurate impressions with both one-step as well as two-step impression techniques.
Able to achieve smooth predictable impressions that are free of porosities with excellent elasticity and shear strength to resist tearing even in thin areas.
Offers superior dimensional stability for accurate impressions even of deep undercut areas, stable in cold sterilizing solutions and compatible with any type of dental stone material.
Odourless, snap set reaction that permits adequate working time with less distortion.
Available in 3 distinct viscosities:
Silde Fit Putty –  A heavy body impression material designed for custom tray fabrication and preliminary impression.
​Dent Silicone Aqua Regular –  A medium body, hydrophobic impression material ideal for single mix impression technique recommended for edentulous and inlay restorations.
Dent Silicone Aqua Injection – A light body, low viscosity injection type impression material recommended for wash impression of a wide range of restorations such as post-core, crowns and bridges.
Silde Fit Putty 1-1 Set Contains:
Base 500gm, Catalyst 500gm, Measuring Scoops – 1 set
Dent Silicone Aqua Regular 1-1 Set Contains:
Base 96gm, Catalyst 100gm, Adhesive 9gm, Retarder 3gm, Mixing Pad
Dent Silicone Aqua Injection 1-1 Set Contains:
Base 95gm, Catalyst 100gm & Mixing Pad