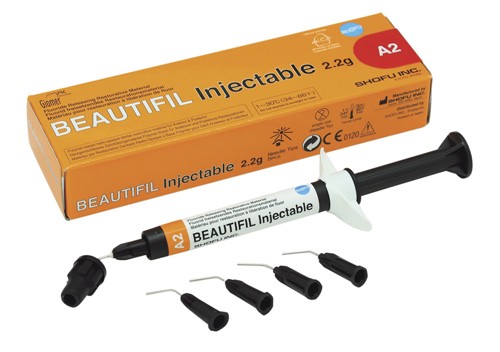 Overview
BEAUTIFIL Injectable is the only universal restorative that comes in an injectable syringe, packed with exceptional strength and sculptable beauty at your fingertips.
Formulated with a higher filler load and a uniquely strengthened resin matrix, Beautifil Injectable exhibits a greater degree of polymerization to achieve remarkable mechanical properties.
The filler-resin structure has been optimized to control light diffusion within to mimic the optical characteristics of natural teeth. Inherent natural aesthetics, fluorescence and opalescence enable the clinician to create indiscernible restorations.
Features
Packaging
GIOMER Concept
Brochure
Beautifil Injectable is indicated for a wide range of restorations such as Class I through Class V restorations, direct veneers, core build-up, shape & shade modification, minimally invasive anterior and posterior restorations, restoration of occlusal surface as well as repair of composite & ceramic restorations.
The ideal viscosity of the non-tacky, non-droopy paste assures optimal handling to easily shape restorations as you extrude the material from the syringe.
Unique resin structure assures optimal cure every time.
Superior mechanical properties enable universal application.
Efficient injectable delivery to restoration site that reduces instrumentation and working time.
Natural opalescence and fluorescence.
Inclusion of S-PRG fillers provides sustained fluoride protection and a unique anti-plaque effect.
Available in 11 shades:
Universal shades: A0.5, A1, A2, A3, A3.5, A4; Opacious Dentin shades: A0.5O, A1O, A2O; Enamel shade: Inc;
Bleach White shade: BW
Box of 2.2 gm syringe & needle tips x 5
Refills (2.2 gm): A0.5, A1, A2, A3, A3.5, A4, A0.5O, A1O, A2O, INC, BW