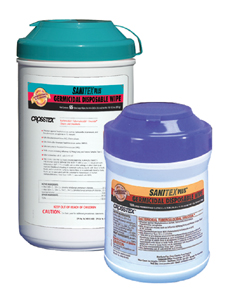 Overview
Sanitex® Plus Wipes are ideal for use in alternate care settings including dental offices. Sanitex® Plus Wipes are compatible with a broad range of hard, non-porous surfaces and equipment commonly found in healthcare environments. It meets CDC, OSHA and CMS Tag F441 guidelines and is bactericidal and virucidal. Effective against 16 microorganisms in 3 minutes – including bloodborne pathogens, viruses, and bacteria.
Kills MRSA, HBV and HCV in 2 minutes. Active ingredients: Quaternary Ammonium & alcohol. Low alcohol content (14.85%). Use for both cleaning and disinfecting steps on hard, non-porous surfaces and patient care equipment (one-step cleaner & disinfectant on non-soiled surfaces).
X-Large moist wipe is "fold-less" for immediate, easy use.
Latex: No
CE: No
Made in USA: Yes
Worth Knowing: When using surface disinfectants: The best way to avoid unwanted damage, discoloration, or unpredictable health effects is to use professional EPA-approved products according to label directions. If more than one product is used on a surface, use only products with compatible ingredients.
REF# SANLC, LARGE – 6″X6¾"/15X17CM , 160/TUB (White)
REF# SANXLC2 , X-LARGE – 8″X14″/20X36CM , 65/TUB (White)