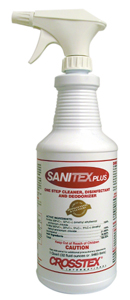 Overview
EPA Reg. intermediate level disinfectant: Tuberculocidal, bactericidal, virucidal. Kills TB in 6 minutes.
Kills HBV in 3 minutes, HIV in 30 seconds. Active ingredients: Quaternary Ammonium & alcohol. Low alcohol content (21%) provides excellent cleaning with rapid TB kill. Use for both cleaning and disinfecting steps on hard, non-porous surfaces and patient care equipment.
Latex: No
CE: No
Made in USA: Yes
Worth Knowing:When using surface disinfectants: The best way to avoid unwanted damage, discoloration, or unpredictable health effects is to use professional EPA-approved products according to label directions. If more than one product is used on a surface, use only products with compatible ingredients.
REF# JSSDP, QUART/.946 LITER (Clear)
REF# JSSGP, GALLON/3.785 LITERS (Clear)