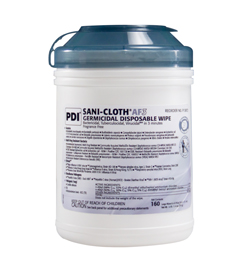 Overview
Bactericidal, Tuberculocidal, Virucidal in 3 minutes. Fragrance Free.
Fragrance free formulation; no harsh odors
Effective against 44 microorganisms in 3 minutes, including 12 relevant multi-drug resistant organisms (MDROs) and TB
Alcohol free – perfect for use on equipment and hard non porous surfaces that sensitive to alcohol
Fragrance, alcohol, bleach, acid, phenol, acetone, and ammonia free
Meets CDC, OSHA and CMS Tag F441 guidelines
Bactericidal, Tuberculocidal, Virucidal
Latex: No
CE: No
Made in USA: Yes
Worth Knowing:
When using surface disinfectants: The best way to avoid unwanted damage, discoloration, or unpredictable health effects is to use professional EPA-approved products according to label directions. If more than one product is used on a surface, use only products with compatible ingredients.
REF# SANAFL3 , 12/160'S , L-6 X 6.75 (White)
REF# SANAFXL23 , 6/65'S , XL-7.5 X 12 (White)