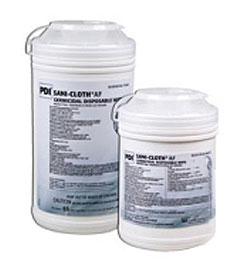 Overview
The first and only alcohol free disinfectant wipe with a 3 minute contact time.
Effective against 25 microorganisms in 3 minutes
Microorganisms include Acinetobacter, Klebsiella pneumonia, MRSA, ESBL producing E. coli, HBV, HCV and HIV
Fragrance Free – Ideal around patients and healthcare workers with respiratory sensitivities
Alcohol Free – Perfect for equipment and other hard, non-porous surfaces sensitive to alcohol
Canisters feature a Unique Deep Well Lid that seals securely to prevent moisture loss and allows ample space for storing and accessing next wipe.
Kills Influenza A2/HK, Rhinovirus, HBV, HCV, MRSA & VRE in 2 minutes. Active ingredients: Quaternary Ammonium & alcohol. Use Super Sani-Cloth on pre-cleaned hard, non-porous surfaces and patient care equipment. X-Large size moist wipe is "fold-less" for immediate, easy use.
REF# SANAFL , 12/160'S, LARGE – 5″ X 8″  (White)
REF# SANAFXL2 , 6/65'S , 7.5″ X 15″ (White)