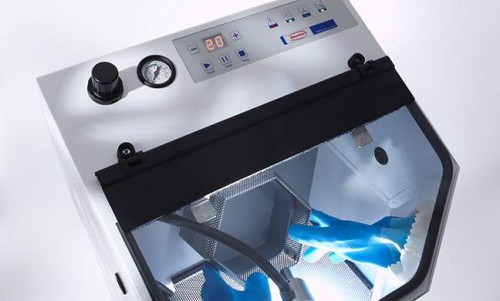 Vario jet – Recyclable sandblasting – professional, efficient and fully automatic
Function & Performance
The Vario jet is the ideal recycling sandblaster for economic sandblasting. It can be operated both in the automatic and manual mode.
Advantages
Exact coordination of the essential sandblasting parameters (pressure, time, grit size).
Intelligent extraction system: only unusable fine dust is extracted.
High degree of freedom of movement due to easily removable sandblasting basket.
The intelligent extraction system/B>
50% saving in abrasive consumption. The extraction channels have been designed, so that only unusable fine dust is removed.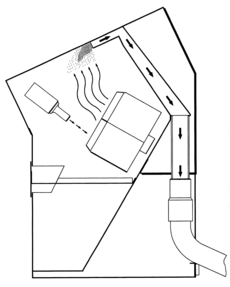 The nozzle
can be positioned at three different distances to the blasting basket. It is made from highly resistant boron carbide. The distance and angle of the nozzle to the casting are determined by the rotational direction of the basket, so that 100% blasting efficiency is achieved in minimal time.
The blasting basket
rotates with a special geometry. Up to 7 CrCo castings can be sandblasted simultaneously. On average a framework is fully automatically sandblasted in only 10 minutes. A rubber basket insert protects the frameworks and baskets. The blasting basket is easily removed in only one step (for manual sandblasting).
Technical features
Intuitive operating logic.
Program selection via a membrane keypad.
Blasting pressure can be set from 1 to 6 bar (14.5 – 87 psi).
Manometer pressure display.
Automatic control of an external extraction with controlled shut-off delay between 5 and 30 sec.
Inlet opening and connection possibility for a compressed-air-driven unit (microblaster, pneumatic deflasking chisel, outlet nozzle).
Highly resistant, coated glass panel.
Cotton-coated protective gloves.