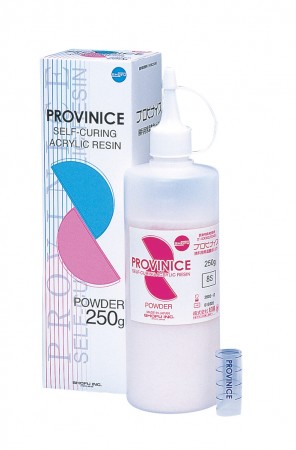 Overview
Designed to provide provisional restorations with increased patient comfort, superior aesthetics, occlusal stability, pulp protection, superior handling and minimum residual monomer after tooth preparation.
Provinice is a chemical cure, powder-liquid type acrylic resin in tooth as well as colour for provisional crowns, bridges, inlay, temporary bridge, individual tray for abutment impression, repair of dentures, extension of denture rim, restoration of bulge, etc.
Enhanced aesthetics with high polishability and colour stability.
Superior wear resistance with good retention and durability.
Excellent handling properties with an ideal working time of 3 minutes.
Tooth colour available in: A1, A2, A3, A3.5, Incisal, 56
Gum Colour available in U2 (light pink), U3 (pink), 85 (gumy pink), 3S (base pink)