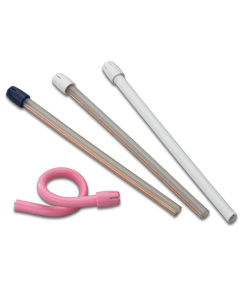 Overview
Provides optimal suction without aspirating tissue. Soft, non-removable tip – bonded to the tube for maximum patient safety.
Wire-reinforced tube forms and maintains any desired shape.
Take a look at…
Pink with a Purpose™!
Crosstex invites you to join us in the crusade for Women's Cancer Awareness. When you purchase our "Priority Pink" Premium Saliva Ejectors, Crosstex will donate 5% of the proceeds to fund breast and reproductive cancer research at Memorial Sloan-Kettering Cancer Center. You will be helping to build Women's Cancer Awareness among your patients with these Pink Premium Saliva Ejectors while feeling good about your contributions towards the cure.
Latex: No
CE: Yes
Made in USA: Yes
REF#ZPP 100pcs per bag (Pink)
REF#ZCB 100pcs per bag (Clear/Blue)
REF#ZCW 100pcs per bag (Clear/White)
REF#ZWW 100pcs per bag (White/White)
REF#ZCMC 100pcs per bag (Multi-color)