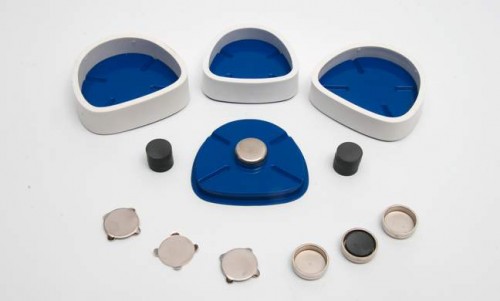 Pin-Cast model base former set – Systematic model base production
Function & Performance
Model base production kit for effective formation of model bases for plaster arches.
Advantages
Saves time and material.
Straight forward base system with re-usable parts.
Variable base height and size.
Details
Accurately fitting primary and secondary bases.
Easy removal and precise relocation of the models.
Corrosion resistant discs and magnet holders.
Strong magnets for secure hold.
Use
1. Separating dental arches: Plaster against plaster.
2. For the dental arch base with pins.
3. Removal of the base plate.
4. Isolation of the model base: Plaster against plaster.
5. Filling out the split cast form with base plaster.
6. Removal of the rubber ring after the plaster has set.
7. Articulating the models in the articulator or occludator parallel to the table level.