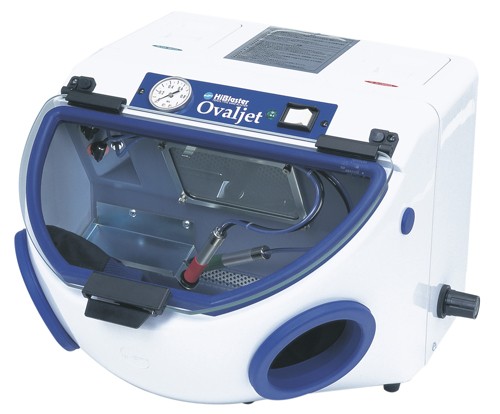 Overview
An ergonomically designed compact, oval-shaped micro-sand blaster ensures powerful jet blasting of metal surfaces, cleaning of ceramics, resin surfaces & devesting.
The ergonomically positioned arm rings assure ease of operation without any postural strain.
The cabinet is created to achieve a total seal and prevent leakage of dust during operation.
The interior of the cabinet is brightly lit to help reduce eye strain.
It is equipped with colour-coded light weight handpieces for easy selection of abrasives grains, Glass Beads or Hi Aluminas. Knob for selection of abrasives is placed inside the cabinet for easy switching of the abrasives without halting operations.
The specially designed air intake system ensures less clogging and uniform flow of abrasives for efficient sand blasting. The design of the dust box and the attached sponge filter also make cleaning easy.
The pressure of flow of abrasives is easy to control with the help of the foot control.
Individually packed
Dimensions Approx. W450 x D495 x H307 (mm)
Power supply: AC100V, 50/60 Hz