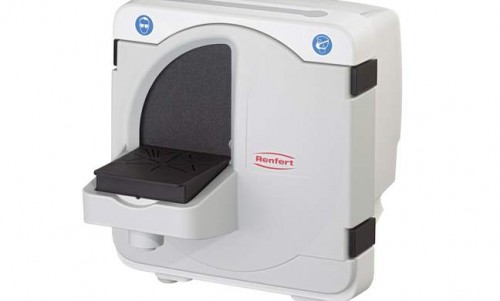 MT3 – Impressively powerful – surprisingly inexpensive
Function & Performance
The MT3 wet trimmer is impressive due to its exceptionally powerful motor. With the MT3 Renfert provides high-performance trimming at a low price.
Advantages
Quick change of the trimmer table angle using the practical tipping mechanism (90°/ 98°).
Safety: when the front door is opened a safety switch stops the motor and water.
Uniform coverage by the optimally positioned spray tube prevents clogging of the trimmer disc.
Details
A 10° inclination of the unit provides an optimum view of the model.
Easy guidance of the plaster model with the aid of slotted angle lines in the trimmer table.

MT3 and MT3 Pro
Durable, user-friendly, powerful: These trimmers set standards.
Renfert has incorporated its entire expertise in these two trimmer models. This is to ensure that you can give every effort in the daily routine of the laboratory. With exceptionally powerful motors, very easy handling and enormous, long-term stability.
Cleaning.
The trimmers can be cleaned exceptionally easily and quickly thanks to the tool-free removable front door and spray tube. Only four quick-release couplings have to be opened for cleaning.
The housing.
The trimmer housings are 100% non-corrosive, can withstand any environment and are consequently extremely durable.
Design.
The trimmers are safe and comfortable to use. They have a modern, up-to-date appearance. A perfect combination of ergonomics and style. The large door opening also allows trimming of large models and a clear view of the objects being trimmed. Overall: an exemplary high degree of working comfort.
Insider tip!
The compact design of the MT3 and MT3 is also impressive. This allows to integrate them in any workplace environment without any problem.