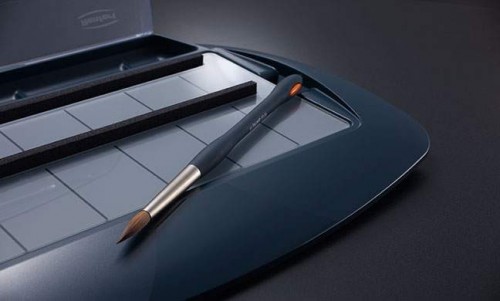 lay:art crystal aqua xl – Cool esthetics – intelligent high-tech functionality
Function & Performance
Partially self-moistening glass mixing tray with two moistening strips.
Advantages
Gentle for the brush and completely abrasion free using float glass.
Homogeneous moistening and consistency of the porcelain thanks to dimensionally stable and durable moistening strips.
Optimal moisture transport ensures there is no formation of microbubbles or porosity.
The lay:art system
Always individual, always perfect.
We have developed this ergonomic system in close collaboration with numerous experts from the porcelain sector: for more efficiency, reliability and pleasure while building up porcelain.
Housing.
270° accessibility of all materials using ergonomic wrist support.
The well-designed housing lid protects against drying out and contamination, provides an optimal view of the labeling foil and is easily removable.
The ingenious ventilation system inhibits mould forming and ensures hygienic working.
The large filling opening guarantees comfortable refilling of water without removing the tray.
Foil.
The rewritable label in the lid ensures organized management of the porcelains and structured working.