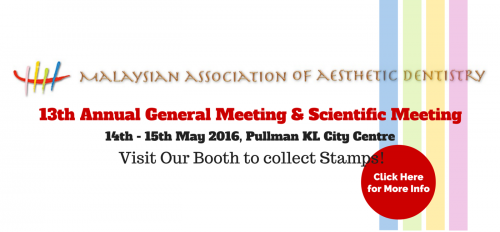 Premiere Dental is participating the 13th Annual General Meeting & Scientific Meeting. Meet us there to collect your stamps & discover our MAAD special promotion.
Date: 14 – 15 May 2016 (Saturday & Sunday)
Venue: Pullman Kuala Lumpur City Centre Hotel & Residence
A full day lecture will be featured Dr Wong Keng Mun covering "A Systematic Approach To Oral Rehabilitation Of Severely Worn Dentition & Edentulism"
Lecture Synopsis
Complex oral reconstruction of the severely worn dentition with or without missing teeth can be a real clinical challenge. Proper diagnosis and treatment planning are crucial for clinical success. Adequate time should be spent to collect sufficient clinical and radiographic information so as to arrive at an accurate diagnosis. With a proper diagnosis, a good teatment plan can subsequently be formulated. It is important to note that the treatment plan has to satisfy both the aesthetic and functional considerations to ensure long term clinical success.
In this presentation, many related topics will be covered.
1. Proper diagnosis and treatment planning
2. Aesthetic material selection and techniques
3. Implant dentistry
4. Vertical dimension
5. Importance of diagnostic wax up
6. Jaw joint positions
7. Fixed vs removable restorations
8. Treatment of worn dentitions
9. Treatment of partial and fully edentulous jaws
10. Treatment of root canal treated teeth
11.Aesthetic soft tissue adjustment and augmentation
12. Implant guided surgery
Besides, Dr Anthony Tan will  discuss about Artistry With Composite: Understanding And Achieving It In Your Practice
(with Anterior Composites Hand-On Workshop)
Lecture Synopsis
Since its advent, dental composite treatment has become increasingly popular over the years, due to its aesthetic nature and conservative applications. Traditionally, dental schools would provide dentists the comprehensive education needed, based on scientific data and principles, to use the material effectively in their patients. However, it would often take years of clinical experience and additional continuing education, for dentists to understand and maximise its full artistic potential. In this morning lecture programme, Dr. Anthony Tay will be sharing his clinical experience on the art and science of composite restorations in the daily general practice.The audience will be shown techniques, tips and tricks, with clinical cases illustrating the vast examples of composite's aesthetic applications. With these insights dentists can become more confident of placing omposite restorations, fufilling the biomechanical, biological and artistic integration with the dentition.
Download our Promotion specially for MAAD members!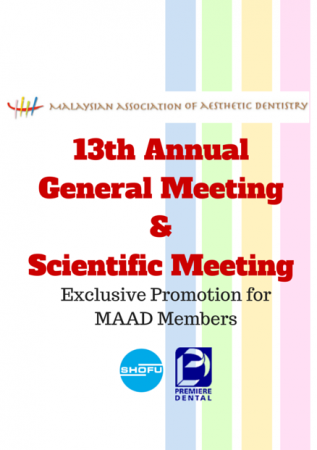 Register with MAAD Now!