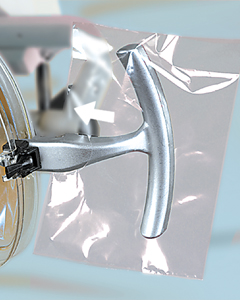 Overview
Patented clear plastic sleeve for T-Style Handles. Clear with White Arrow.White indicator arrow for quick location of die-cut.
Latex: No
CE: Yes
Made in USA: No
Worth Knowing:
Surface barriers reduce the risk of cross contamination caused by airborne aerosols, splash and spatter. The most common surfaces easily protected by surface barriers are:
1. Touch Surfaces: usually contaminated by staff during a procedure.
2. Transfer Surfaces: not touched directly by the dental staff, but usually contacted by contaminated instruments.
3. Splash, Spatter & Aerosol Surfaces: comprise all surfaces in the operatory not classified as touch or transfer surfaces. Examples include dental chairs, x-ray heads, view boxes, unused countertop areas.
REF #BCLST 500/Dispenser box 4″ x 5.75″ / 10 x 14.5cm (Clear)