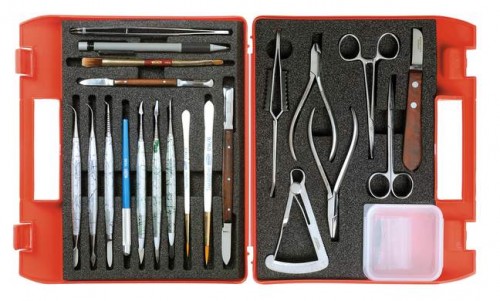 Instrument set Deluxe – To encompass all dental technology tasks
Function & Performance
High quality set for every dental technician including instruments, brushes and pliers for all areas of use within dental technology.
Contents
Tweezers rust-proof 15.5 cm, Sakura marking pen, Combi wax brush, Wax knife small, ERGO Waxinstrument No. 1, ERGO Wax instrument No. 3, ERGO Wax instrument No. 4, Multipurpose instrument with blades, ERGO Acryl instrument kit 3 pieces, Takanishi brush size 4, Takanishi brush size 6, Wax knife large, Soldering tweezers, 16 cm, Aderer clasp bending pliers slender, Curved haemostats 13 cm, Plaster knife 13 cm, Standard callipers, Pointed pliers grooved, Foil scissors.