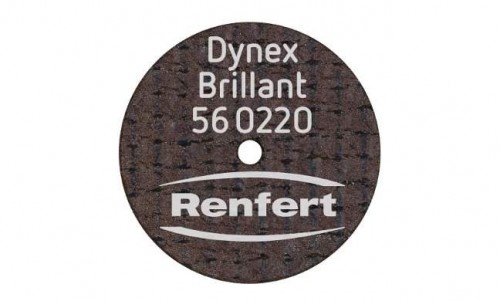 Dynex Brillant separating discs. – The thinnest experts for ceramic, zirconium oxide and lithium disilicate.
Function & Performance
Extremely thin and flexible diamond abrasive and separating disc with glass fiber reinforcement. Created for separating and trimming porcelain, zircon oxide and lithium disilicate.
Advantages
Extremely thin and flexible for precise separation of interdental spaces and gentle trimming work.
Quick and reliable separation of press sprues.
Low vibration and heat generation in order to prevent cracks and chipping with all ceramic materials.
DYNEX
Dynex separating discs from Renfert are highly precise tools, of which we are very proud. 40 years of experience and permanent, intensive development work are incorporated in the discs. They are produced using the latest manufacturing methods and the strict raw material controls ensure that only the materials are used.
Our separating discs attain a cutting speed of up to 300 km/h (186,4 miles per h). They separate powerfully, safely and highly precisely at high speed. To achieve this type of high performance, a careful combination of selected raw materials and a high degree of dimensional accuracy is decisive. In addition to the very high-quality abrasives, such as the finely coordinated diamond particle sizes, as well as aluminum oxide with a very high degree of purity, the binding agents are also consistently tailored to their respective area of application.
All Dynex separating and trimming discs, including the ultra-thin versions, are reinforced with double glass-fiber. The reinforcement is a component of the disc core and is fused completely with the carrier material. In a nutshell this means for you: outstanding durability, flexibility and reliability.