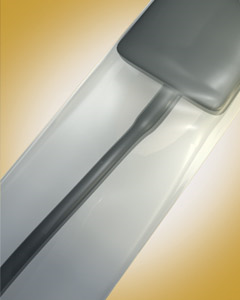 Overview
Innovative digital x-ray sensor sleeves with smooth, non-irritating seams eliminate patient discomfort. Available in two convenient sizes.
Traditional sensor sleeve barriers have rough seams that can make imaging procedures unnecessarily harsh on delicate mucosal tissue.
Crosstex Digital Sensor Sleeves feature:
• Smooth edges with no rough seams to abrade the corners of the mouth or mucosal tissue.
• Convenient sizing to fit all commonly used digital imaging sensors.
• Effective barrier protection to cover valuable sensors and reduce the risk of cross contamination.
Latex: No
CE: Yes
Made in USA: No
Worth Knowing:
Surface barriers reduce the risk of cross contamination caused by airborne aerosols, splash and spatter.
The most common surfaces easily protected by surface barriers are:
1. Touch Surfaces: usually contaminated by staff during a procedure.
2. Transfer Surfaces: not touched directly by the dental staff, but usually contacted by contaminated instruments.
3. Splash, Spatter & Aerosol Surfaces: comprise all surfaces in the operatory not classified as touch or transfer surfaces. Examples include dental chairs, x-ray heads, view boxes, unused countertop areas.
Individually packed in blue [PN 0797] / yellow colour [PN 0796]